I have always said that one day I would have the perfect dog. I think I found the breed I was looking for. Today, in a very cool and amazing pet store called "Wild Things" up near Puyllup, I saw this dog: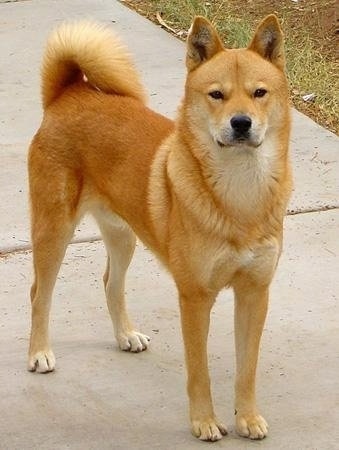 She was a
Jindo Gea dog
, a Korean breed. She was so sweet, and fine with other animals (as this pet store had a duck, two mini chickens, and about 5 cats wondering freely about the store) and just the right size. About 40lbs full grown, this dog is between a small dog and a big dog. Perfect for me. No yippy bark, and no 200lbs of dog to shed all over the house. A good sized dog to have forever.
Jindo Dog Rescue.
The only other dog I have ever thought to pay money for is a Rhodesian Ridgeback.
Ridgeback Rescue.
But Don has a thing with dogs with long muzzles... he just can't get over how long the face of the Ridgeback is. So we never pursued it. Not that we will now, in a rental house, but I love fantasizing about having my own space, with chickens roaming freely over a portion of land that won't leave us walking in poo, and a dog that can play with the children (who, of course, because we have land, can throw a ball as far as they can without hitting our neighbor's house) along side my acre sized garden, complete with stone fence, like in old English films and a driveway lined with Poplar trees.
Awww... to dream.