My cat Taio passed away this last weekend.  I found him laying in the middle of the neighbors field barely able to walk.  It wasn't long before he left us, but not before he allowed each of us to lay with him, cry with him, and say goodbye.  Even in death, this cat was kind and sweet and I will miss him terribly.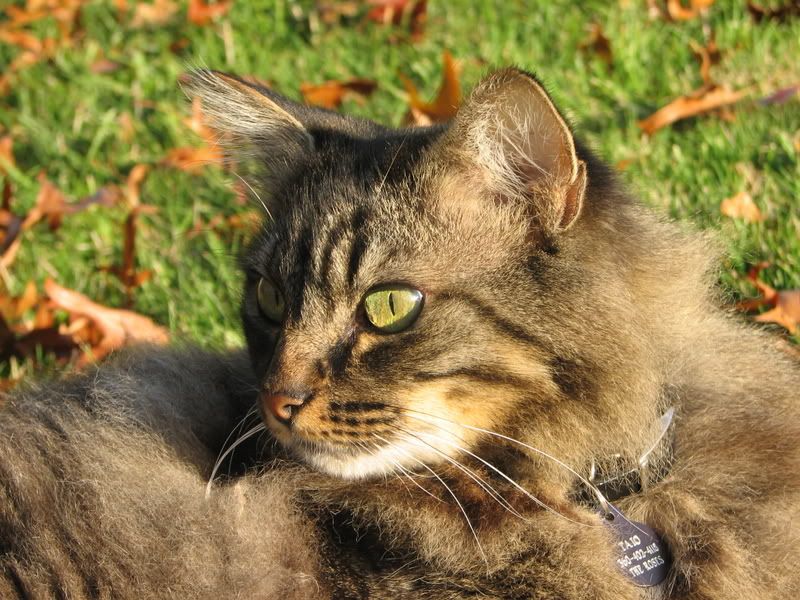 I found him when exercising horses with a friend in 1997.  I wasn't even really a grown-up yet.  He and his 5 brothers and sisters were on the side of the road huddled around their mother, who had been hit by a car. I took him home and my friend found homes for the rest.
He has been such a wonderful cat. He didn't meow and he was the most even tempered cat I have EVER met. I had never even seen him hiss unless hurt, not even in the end. He was a chubby ball of love and definitely a wonderful member of the family.
I had him before 3 of my kids.
I had him before my marriage began. 
And yet, he was my husband's cat at heart.  His favorite napping place was on Don's lap or behind Don on the couch crushing my couch cushion closest to the window he loved to look out of.
When he was a kitten, Alex was just 1 year old.  I had to keep his cat food and litter box in the bathroom because that was a door I could keep closed at all times.  In doing this we started a trend that lasted until the day he died…. every time we went pee, he had to be fed.  lol!  It was silly, I know, but being escorted to his food became his 'thing' and he couldn't really eat unless someone had walked him there.  It was tradition. 
He was a huge fan of 'people flavored water'. 
He taught all the cats this love and now we have three younger cats that will climb into the shower with us, or drink from the bathtub while we are sitting in it.
He had the biggest yellow eyes I have ever seen. 
He was even loved by all our neighbors.  When he was a young cat, about 5 I would guess, the neighbor got a German Shepherd puppy named Jessie.  She LOVED Taio.  At first he was a toy.  She would rush him and he would just put his ears back and stare at her like "What??"  She didn't know what to do considering he wouldn't run from her, so she claimed him.  She would corral him onto the sidewalk when he was outside with her and lick him until he was soaking wet.  He stood for it all.  He just wanted to be friends with everyone.
During our most recent move our neighbors nick-named him 'fat cat' because he was a whopping 22lbs and it was easy for their grandkids to say.  Each time they came over he would saunter up to them and let them pet and touch his ears and tail. 
He slowly lost weight this last few months and when he died he couldn't have been more than 15lbs.  It was strange to hold him in those last moments and remember when he weighed nearly as much as our toddler just months ago.
He was the first of many pets. 
He slept at the foot of our bed for 15 years.
We buried him under the cherry tree in the backyard.  I planted tulips and white bluebells over his grave.  They look sad this year.  Bulbs don't do well transplanted while blooming.  But in a way it seems fitting.  Every time I see the spot I am sobered by the reality that my friend is gone… but next year they will come up and they will remind us of this amazing life we were privileged to be a part of and it will be a little happier, for the love of a good pet lingers long after the pain of loosing them.
He was the most tender, sweetest and kindest of our cats by far.  Always a friend, even to dogs, chickens, and toddlers, this beloved member of the family will be terribly missed.  I want to remember him fat and happy, rolling around the yard in the summer sunshine like this:
I hope you find summer sun where you are my sweet friend!  We loved you so very much!