Canola or safflower oil for greasing muffin tins (you can use PAM too)
1 1/2 c tightly packed, coarsely grated zucchini
3 Tbs flax seeds
1/2 c water
1 1/2 c WW pastry flour
1 c barley flour (spelt works, and I also have used just unbleached in this spot)
1 Tbs baking powder (Rumford)
1 1/2 to 2 tea cinnamon
3/4 to 1 tea ground ginger
1/4 tea ground cloves (or sub 5-Spice)
1/2 tea sea salt (important to bring out the flavors... have tried it without... not quite as good)
1/2 c dried rasins, currents, or cranberries
1/2 c apple juice
1/3 c maple syrup
1/3 c canola or safflower oil
(an overripe banana is my secret ingredient to these muffins for my family... they like things a bit sweeter than the average "food muffin" fare.)
Gather your ingredients:
Gather your help, complete with cheesy grin: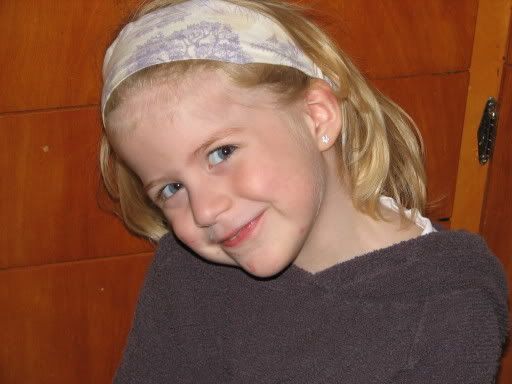 #1. Brush the muffin tins with the oil and set aside.
#2. Set the zucchini in a colander over a bowl or plate to drain.
#3. In a blender, grind the flax seeds. Add the water and process more until slightly gumy mixture is acheived, about 30 seconds.
#4. In a large bowl, combine all dry ingredients including the currents/rasins.
#5. To the flax seed mixture, add the apple juice, maple syrup, oil and vanilla (and here I add in a banana as well). Process in blender until foamy, about 1 minute.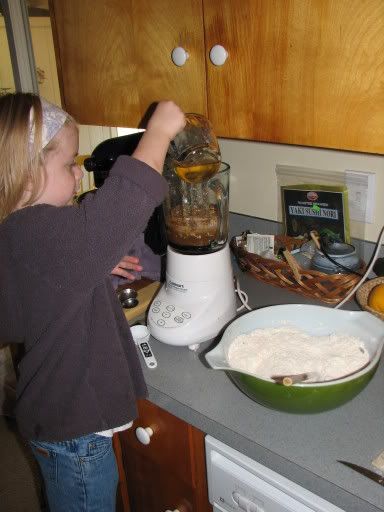 #6. Press zucchini to make sure most of the moisture is out of it.
#7. Blend the liquid mixture and the zucchini into the dry mixture, just until all of the flour is absorbed (too much more and they get dry).
(See mom! There are no eggs! I can eat the dough!!!)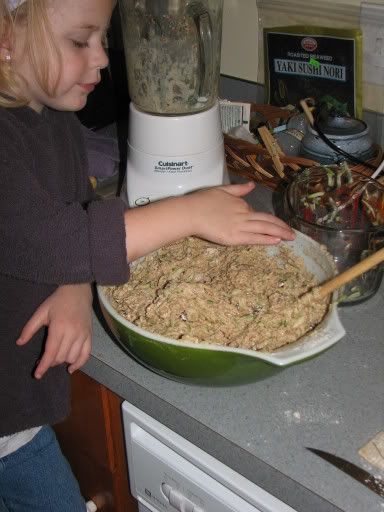 #8. Fill the oiled muffin tins almost to the top with batter, and bake on the center shelf of an oven preheated to 375* until a skewer inserted into the center comes out clean and the tops bounce back to gentle pressure. (18-20 minutes in my experience)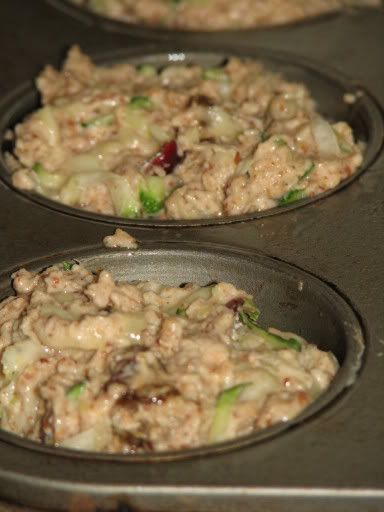 #9. Set the muffins on a rack to cool, running a knife around the outside to remove them from the pans (you may have to remove them from the pans hot because they tend to get soggy around the bottom if you don't). Serve warm or cool or store for future use.
And what does my future Domestic Goddess in Training do while her muffins are cooking?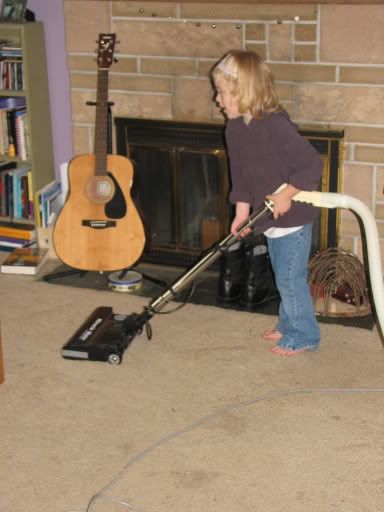 For vegan baking these are surprizingly simple. You dirty one spoon, one blender, one large bowl, and muffin tins, and they always come out. I experiment with these pretty often because they are such wonderful canidates, esp this time of year with all the zucchini I have running my back yard
I have added dates instead of rasins with only 5-spice as all the spices, and that turned out wonderful. It is a recipe I keep in my mental stocks for when we need a fast breakfast but not for a couple days or so... Like planning a road trip or something. These are always on the menu. They are perfect with a juice boxed size of chocolate rice milk in the car. (or with a juice box for that matter)