I did Thanksgiving at my house this year. I know it seems odd, me being 8 mos pregnant, but I can't host Christmas (I will be 2 wks from having a baby) and I probobly will not host next year either due to 11 mo old baby, so I took on Thanksgiving. It was great!

My brother showed up and was a big help with the cooking. I pretty much had him doing the things that I didn't have arms for, for the better part of an hour and 1/2. My dad as always, only left me half the dishes, and my dads girlfriend brought the turkey (both of which made a HUGE difference!). It was a very nice and pulled together meal. We only had to reheat one thing, and it was easy. Still tasted great.
Some highlights...

The table: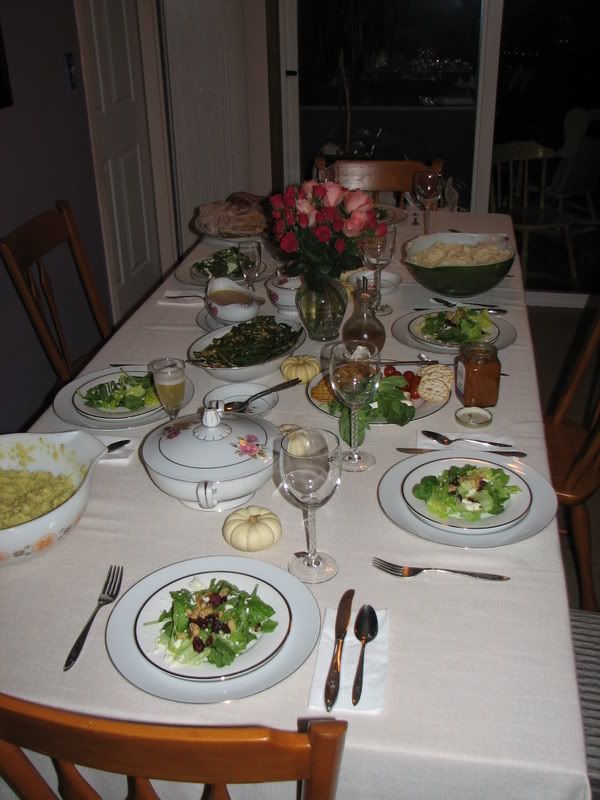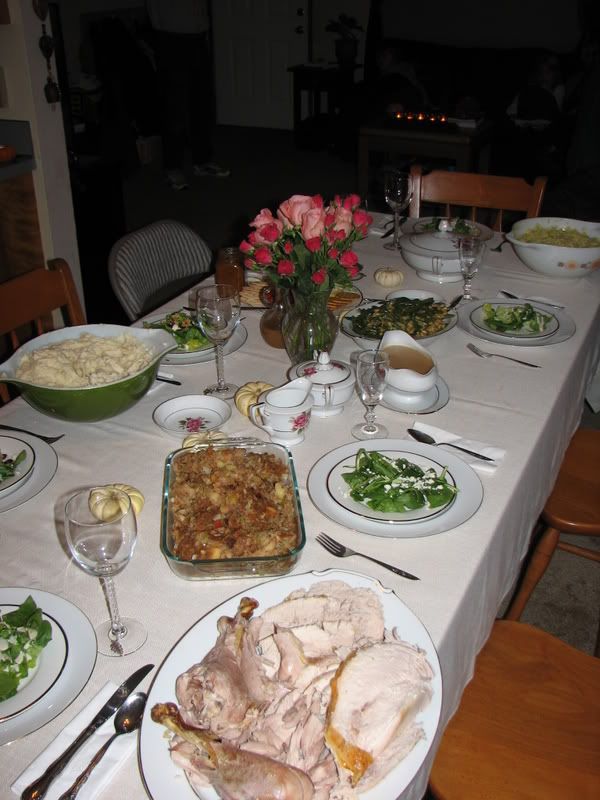 My china, set out beautifully layered with the salad plates on top. The pink and dark magenta roses my husband bought for me, and I thought they matched perfect, so I didn't do the center peice with the drilled white pumpkins that I was going to, but I think it looks nice, albeit very simple.

The Salad:

We can get SPINICH again! Yay! After two months of spinich not being on the market in WA due to the health risk, we are able to have spinich in our salad. This salad is a spinich and romane salad with walnuts, cranberries, feta cheese, and a homemade Apple Cider Vinagrette.
Apple Cider Vinagrette Recipe:
2 c of apple cider (the good stuff... no Tree Top.)
1/2 c apple cider vinagar
1/4 tea salt
1/2 t. honey
Put the apple cider in a small sauce pan and boil on Med heat to reduce until it is less than 1 cup of liquid. Add in honey while it is still hot, and then allow to cool to eat least room temp. Add the vinagar and salt. Mix well and serve.
The Dessert: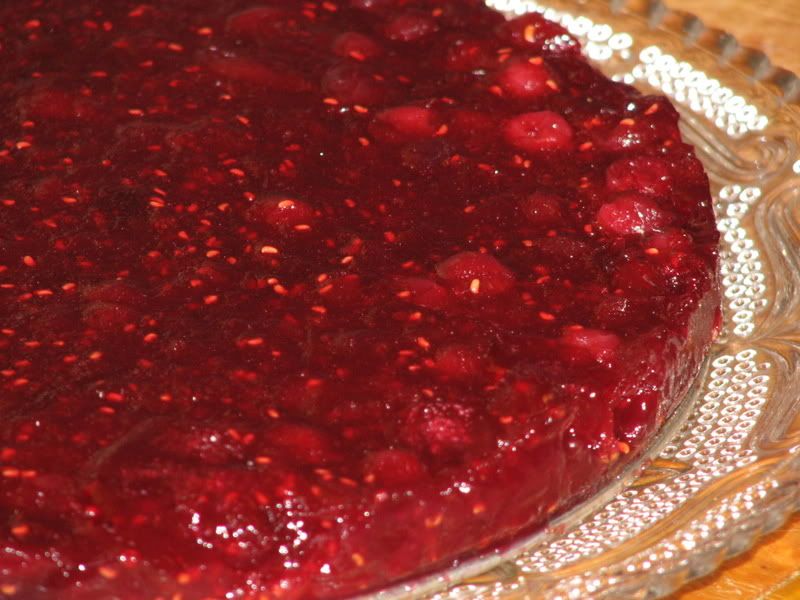 This beautiful Rasberry/Cranberry tart was so easy it was almost scary.
Crust:
1/2 stick of butter (room temp)
3 Tbs brown sugar
1 egg yolk
3/4 c flour
pinch salt
Place butter in a mixing bowl and add brown sugar until turns to course crumbles. Add egg yolk. Slowly add in a bit of flour at a time until resembles a paste. Place in the bottom of a spring form pan or 9 inch pie plate and cook at 350* for 15 minutes or until sides begin to brown.
Filling:
1 bag cranberries
1/2 c water
1/2 c rasberries
1 1/2 c sugar
1 cinnamon stick
~1/4 c water
~2 Tbs corn startch
~Lemon Zest (opt)
Place water, sugar, cinnamon stick, and cranberries in a pan (lemon too if you want it). Bring to a boil until berries pop. Strain berries out of the syrup and place in a seperate bowl. Add rasberries and boil until reduced and partially thickened (about 15 minutes on Med). Remove cinnamon stick and put cranberries back in. Add to pie plate, and cook at 350* until the top berries start to turn a dark brown red. (About 20 minutes)
~If wanting a sideless tart (like mine) and not a pie, mix a 1/4 cup cold water with 2 Tbs of corn starch and add to the mix while still boiling, and bake for same amount of time in a spring form pan. Remove the pan after letting the tart sit for at least 10 minutes.
Other things on the menu:
Sweet Potatoes with Carmalized Shallots
Sour Cream Mashed Potatoes
Garlic Green Beans (whole) with Carmalized Shallots and Pine Nuts
Brown Sugar Glazed Carrots, Parsnips, and Pearl Onions
Pumpkin Pie with real whipped cream
Butternut Squash pate' with Maple Syrup
And of course, TURKEY!