Most of the damage was about 20 miles south of me (we live off Exit 101 now), where we used to live. Our old aparments off Exit 81 were underwater until the second story. The freeway that takes you South on this side of the country has been closed for 20 miles between exit 88 and exit 68 all week long. Last week, we got 3 inches of snow where we are. There was just a dusting in the valley. But in the mountains, they got 14inches. The next day, here, it all melted. The temp got up to 52*. In the mountains, it kept snowing. The day after that, here it hit 61*... in the mountains, everything melted... and headed down hill. A 30* jump in less than three days. Just amazing.
It has been a most humbling week for us out here. Here are some pictures of the damage:
This is Exit 79. The exit to my parents old house... this bridge is over I-5... the biggest freeway on this side of the country.
This is one exit down... next to his new house, which is up on the hill to the rt.
(He is fine and dry.)
This is the area between the two towns down there. Yes... that to the right is a roof awning of the local Sunbirds.
We have friends who have lost houses, farms, animals... and we are lucky. Some people lost their whole lives. Our dear friends organic CSA farm was a total lost. My friends and their new baby got out safe and sound, thank god. A farm next to theirs lost 30 cattle. Another farm close to their lost over 100, and these poor beasts are floating all over the valley. They have no idea when they will have clean water, many wells are contaminated with sewage from the overflowing septics.
Our favorite mexican restruant is that little orange building.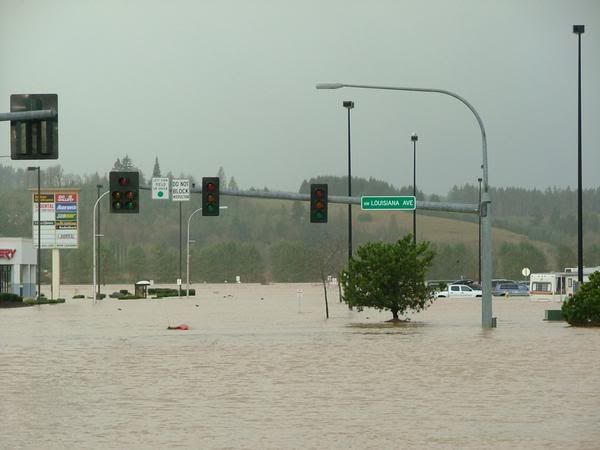 The road outside the local shopping center.
This is the freeway. Doesn't look like it, but it is the main interstate... under this water. Just amazing!
More of the freeway.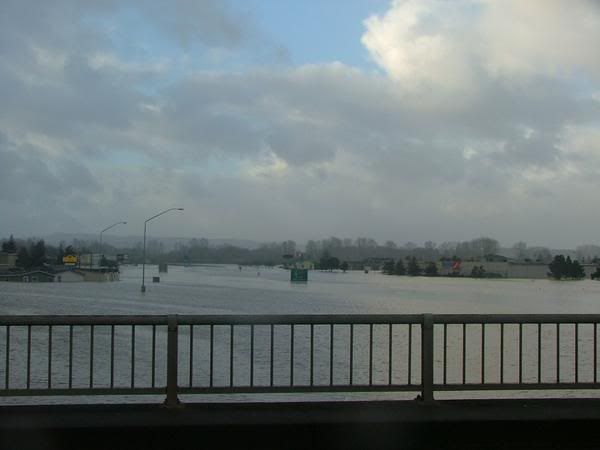 The power of this devastation is incredible. Let us pray that hope prevails.