In our family, stockings are a big deal.  I think they may be the most anticipated Christmas gift of all.  First off, it's the only one that the kids can open before we are awake (they love that!) and secondly, it's the one that gets the most personal.  I can add favorite colors or flavors or smells or prints to each and every tiny package.  I can get their favorite candy and make sure they have an apple or an orange in the toe, depending on preference.  I get to love on my kids without them knowing until they open it on Christmas day.  Ultimately, it is the gift of "I thought of you a lot".  And who doesn't love being thought of a lot?
This year, I am dedicated to making the items in their stockings personal and yet handmade.  Here are some things you can add into your child's stocking that will bring about those loved and cherished feelings:
Homemade Playdough - For the 10 and under crowd, little containers of homemade playdough can't be beat!  There are so many awesome recipes out there, (my favorite)  If you want to, you can add in a thrift store item or two to enjoy that playdough with.  Used garlic presses are a HUGE hit around here. 
Large personally decorated cookie - Laura Ingalls Wilder talks about how her mom used to personalize cookies for them as gifts.  What a great idea!  You can do the run of the mill soft sugar cookie, or mix it up with lavender or lemon to personalize the flavor along with the decorations. 
Zombie Gingerbread Men - On that same token, a small tin of these zombie cookies along with their limb-lacking victims will send any teenage boy into sidesplitting laughter.  The two years I have made these they have been the biggest hit of the party.  Grown men love these too!
A handwritten love letter - I used to write love letters to my kids all the time.  I have whole journals full of them from when Alex and Cyan were little.  But you know what?  Two more kids, homeschooling, buying a house and well…. life happened, and I have tapered off from doing this regularly to doing it occasionally… and some years only on birthdays.  So this year I am going to add my love letter to my kids into their Christmas stockings.  Who knows?  It may create a whole new tradition. 
Candles and candle holders - It is so dark here this time of year.  And my kids are particularly interested in flames and candles.  Now, before you think I am going off the deep end, my younger kids all have the LED votive candles for their holders.  (The one in the little boys room is on a timer that goes on at 5pm and shuts off by itself at 10pm.  Shear brilliance!)  I do not recommend giving fire to children under 10 (and of course, even that number is subject to their maturity).  But whether they are LED or real flame… as a stocking stuffer, they are wonderful! 
A Water Buffalo - Yup.  I am COMPLETELY serious.  Each year my kids get one gift in their stockings that is not for them.  It is a donation in their name.  Most of the time we have donated a couple chickens per kiddo (because we have chickens, so they will easily relate to how wonderful it is to have and care for them, etc), however, this year we are giving them a share of a water buffalo each.  It is the most expensive thing in their stocking by far, but it is SO worth it.  We have found several places that will take a donation towards a share of an animal for family who needs it.  Here are a couple we have researched and found honorable and easy to donate through:
Heifer International - We have donated through them the most often.  They are wonderful and they send you a card letting the gift receiver know what you donated in their name and thanking them for the gift.
World Vision - Another wonderful organization who I would gladly support.  They even have a plush animal gift you can give your child along with a donation to the 'maximum impact fund' which I think is a great idea!  You donate, and they decide who it will best benefit.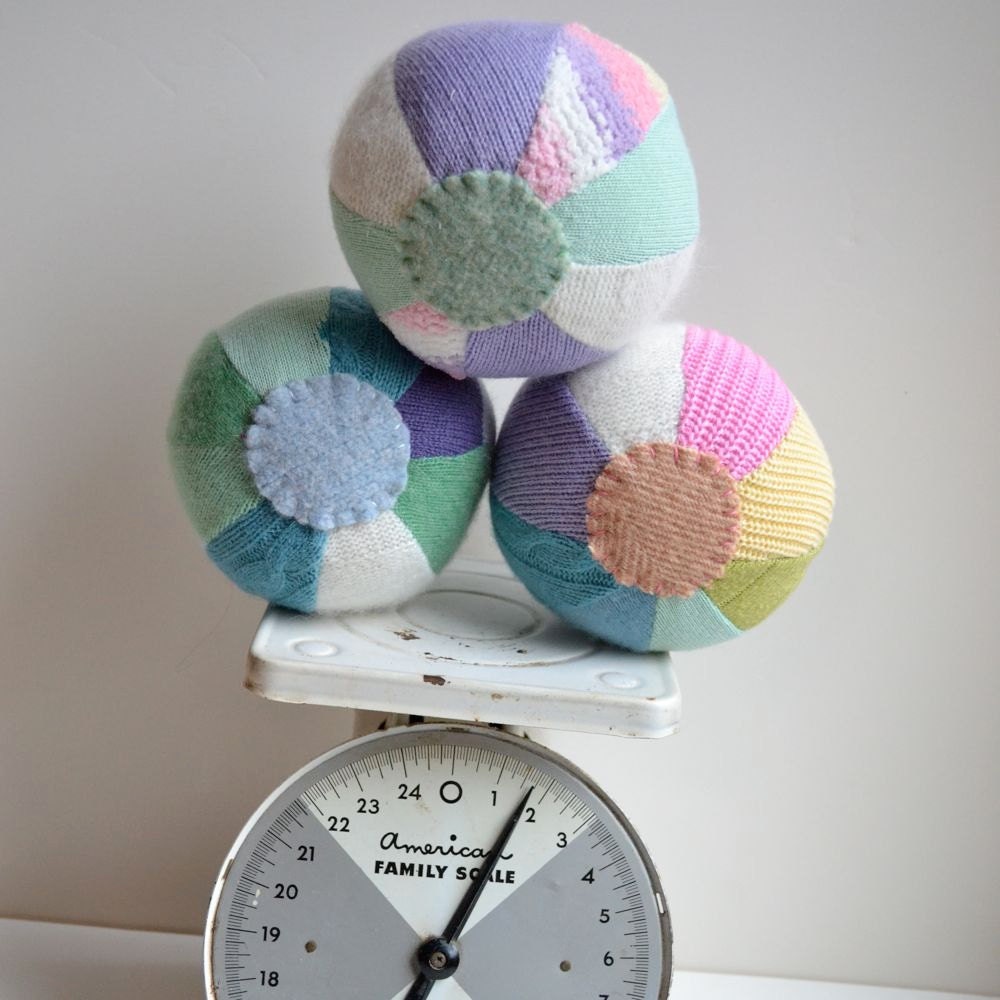 Handmade Balls - For the youngest in the crowd, it's often hard to figure out what to stuff their stockings with that isn't yet another noisy toy that will break easily.  Well these sweater balls are it!  You can fill them with plastic bags to make them crinkle or you can add a large jingle bell to make them ring, or even go with the standard 'stuffed with wool' or fiberfill balls, but they are always a hit, cuz what toddler doesn't like to throw in the house???  Here is a pattern link.  I have used this one many times and they come together very easily!  (If you don't have a machine or are not the crafty type, you can always buy them on Etsy.  Linky.)
~~~~~~~~~~~~~~~~~~~~~~~
One last thing… if you decide to go a different direction for your child's Christmas stocking - PLEASE by handmade!  There are so many amazing artisans out there, many of them mom's like you and I, who make these things for other people's children so their own kids can have a great Christmas.  Etsy is the best source for handmade items at the lowest cost.  Other places to get handmade items would be holiday bazars or craft shows.  So if you do choose to vote with your dollar, vote for handmade!
Happy Wrapping!!